Fabric Frenzy - March Madness
Wow! just when I thought my fabric buying was under control this happened. With so many wonderful fabrics lines coming out every day, I just couldn't resist these buys at the wonderful
Bits N Pieces
, Liz @Bits N Pieces had some awesome sales which I couldn't resist.
First comes my most favorite fabrics right now, Sphere by Zen Chic:
Moda Sphere by Zen Chic
Next is April Showers by Bonnie and Camille, I wasn't planning to buy these but when I saw these at the store just couldn't resis:
April Showers
Last but not least is my another favorite - Hello Petal by Aneela Hoey, looks this is going to be year of purples:
Hello Petal
Now linking up to Lindsey's
Fabric Frenzy Friday@Fort Worth Fabric Studio
and Marlize's
Anything Goes Monday@Stitch by Stitch
blog.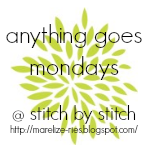 Happy Quilting!
Hema
(a.k.a Malini)